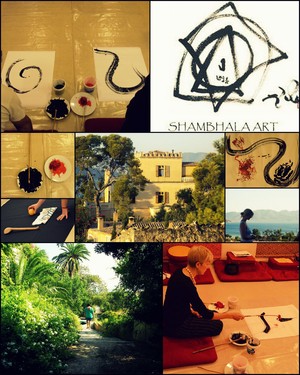 Date:
Tuesday 5 June 2018
Wednesday 6 June 2018
Thursday 7 June 2018
Friday 8 June 2018
Saturday 9 June 2018
Sunday 10 June 2018
Monday 11 June 2018
Tuesday 12 June 2018
Wednesday 13 June 2018
Thursday 14 June 2018
Friday 15 June 2018

Location:
OIKIA in Aigina island
Teachers :
Shastri Sandra Ladley & Artist to the Court Marcia Shibata
Contact person : Olga Papalexandrou
Exploring the creative process
To artist or non-artist, the creative process often seems mysterious and magical. How do we give a physical reality to our inspiration so it communicates its essential nature? Shambhala Art's purpose is to explore the creative process and the product we call art, from the viewpoint of a meditative discipline. It is a viewpoint that encourages us to see things as they are, rather than just how we think or imagine they are and to bring wakefulness and awareness to the creative and viewing processes through the integration of contemplation and meditation.
Shambhala Art Program is inspired by Shambhala Buddhism, it is not in any way religious or about adopting a religion and is based on the Dharma Art teachings of the late Chögyam Trungpa Rinpoche, the founder of Shambhala Buddhism. He was an artist, poet, photographer and author of over a dozen books on subjects ranging from psychology to iconography.
This 10days's program is taught by Marcia Wang Shibata, student of Chögyam Trungpa Rinpoche and Sakyong Mipham Rinpoche, Master Shambhala Kado/Ikebana Instructor within the Shambhala Buddhist community and co-founder the Shambhala Kado Ridgen School of Ikebana. Having studied and practiced in both a major classical and modern Ikebana school, she teaches from the view of nature's innate wisdom and Buddhist/Shambhalian compassionate warriorship, ms Shibata was further bestowed the title of "Artist to the Kalapa Court" in autumn 2013 by Sakyong Mipham Rinpoche.